It's Fri-yay friends and I'm going to let you in on a little secret. I have been confused all week about what day it is. Kent and I traveled on Monday and it threw off the whole week, then throw in that I've been on Eastern and Central time for two weeks and my internal clock is completely screwed up. I'm sleepy by 8:00 at night and waking up by 4:00 in the morning. Hopefully a few more days and I'll get back to normal…just in time to "fall back" and gain an hour. LOL #whydoweevenhavedaylightsavingstime
Enough about me, let's get to this weeks Friday Favorites and see what flipped my switch.
Do you have trouble finding lipsticks you like? I do. My lips are a weird color and I have to prime them before adding any color to them. I hate buying a new lipstick only to try it once and find it's a funky color on me. I received a sample size Stila Stay All Day Liquid Lipstick in one of my Birchbox boxes and I am loving it. It has some real staying power. I found a couple on clearance on the Rack website and ordered this one in 'Angelo'  and it's a great neutral in a matte finish. My other favorite long wear liquid lip color is a Kat Von D and it wears like iron too.
Shop my current lipsticks here…[show_shopthepost_widget id="3307235″]
For Kent's birthday I got him some Polo cologne. I know I may be showing my his age and it's kinda old fashion, but it's still good stuff. He wore this many moons ago and it's always been a favorite of mine. He's also a cologne sponge and fragrances seem to disappear easily, but Polo hangs in there for hours.
Get your man some here…[show_shopthepost_widget id="3307242″]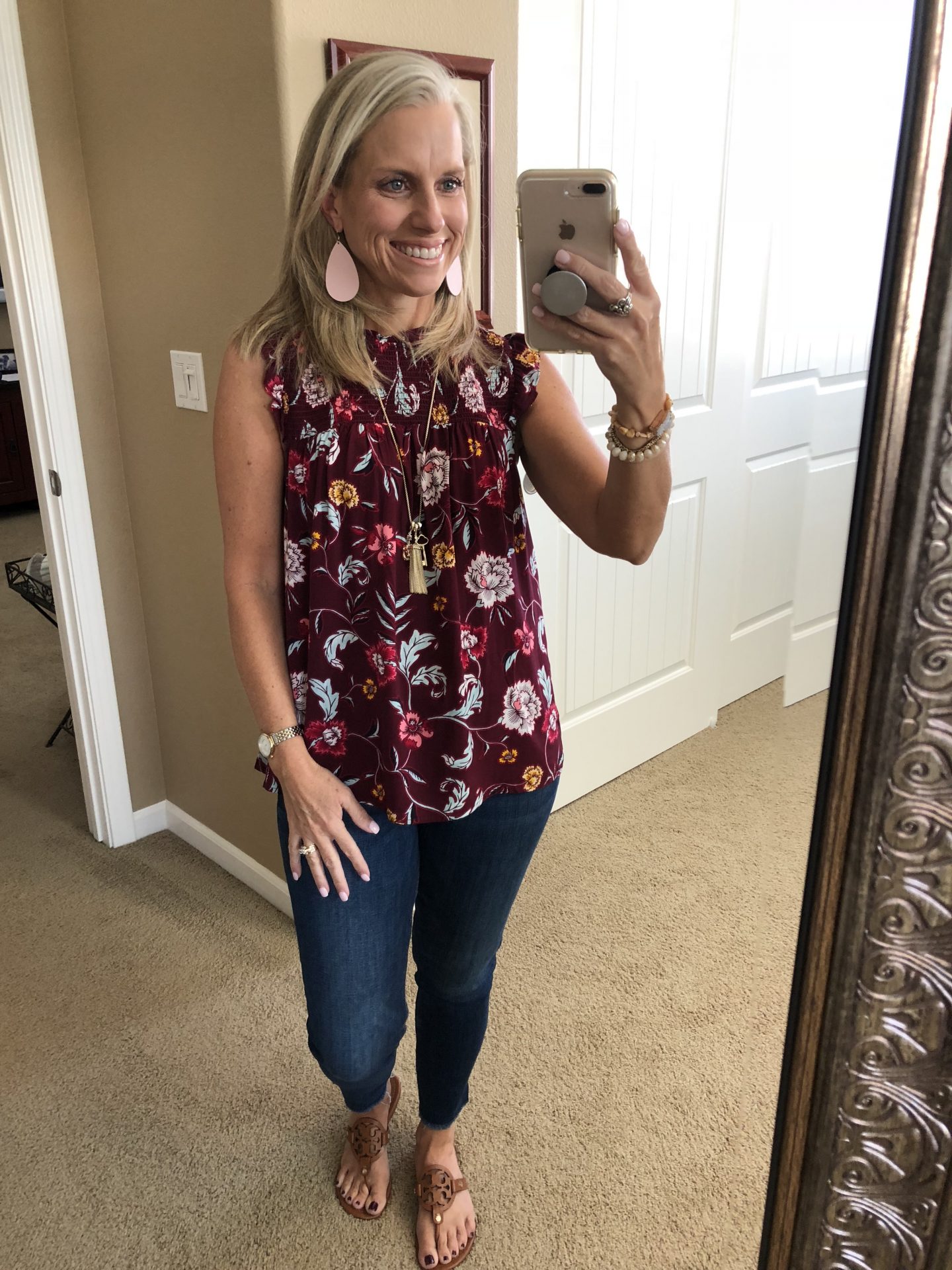 Before leaving for my trip I placed an order at Old Navy and the stuff was finally here when I got home. Is it just me or is shipping from ON and Loft sloooow? I ordered these new Rockstar jeans with a cute little slit detail at the ankle, and this smocked floral shirt that both Shelly and Kellyann had and I loved.  The burgundy color is sold out, but it comes in a white floral and is on sale for $9.97 with and additional 30% off. #dirtcheap
These jeans are good, like really good. Rockstar jeans are so comfortable and come in a great variety of styles, colors, distressed and non-distressed. Something for everyone and such a great price point.
Kellyann and I also took advantage of the Nickel & Suede Buy 1 Give 1 promotion last month and each bought a different pair of earrings and then swapped our extra pairs so we both got two new colors. #smartthinking The blush ones (size medium) are what she ordered and they look like they were made to go with this top and I guess we weren't the only people who loved them, because #theysoldout I am developing quite a collection of N&S earrings. They are so comfortable, lightweight and cute.  You can't go wrong.
Here are my favorites…[show_shopthepost_widget id="3307252″]
P.S. I'm wearing the new Stila Liquid Lip in this picture.
[show_shopthepost_widget id="3307268″]
Last month Rodan + Fields launched a new product that is taking the beauty industry by storm. I don't know if you've ever noticed that Rodan + Fields doesn't advertise, but that's because we don't have to. Our products are sold through word of mouth. They actually used to be in high-end department stores like Nordstrom and when the Dr's realized it wasn't the women behind the counters selling them, but customers were telling their friends, they took them out of the stores and began marketing through direct sales.
? Why am I so excited about this product??
✨ it's a Derma-cosmetic (a product with skincare benefits that also delivers a radiant, even-toned complexion)
✨ it doesn't clog pores
✨ it doesn't cause acne
✨ it's oil-free
✨ it has an SPF of 30
✨ it's super lightweight
✨ it protects skin from the environment, like pollution and dirt and from UVA/UVB rays
I believe in this so much that I am sharing my naked face with you. Here's my before and after using Radiant Defense in Sand.
I've been wearing the Radiant Defense for a few days and I love it. I've never been a foundation wearing kind of girl, but this is lighter, goes on easily and is good for my skin. I typically have an oily T-zone and I was worried this might add to that, and I've been pleasantly surprised that that has not been an issue.
Here are a few more before and afters
And here's why we don't have to advertise, the products are so good major publications are doing it for us.
#thankyou
We have a really cool tool to help figure out which shade is right for you (and honestly you can probably go between 2-3 shades). Click here and try it for yourself.
Interested? Just let me know and I'd love to get you started with skincare. There's no better time to take care of you than now.
Baby love!!!
Yesterday I had the opportunity to help in the children's department at bible study for a bit. I got to love on precious baby Ellie. She was so sweet. I've always been a baby person and it's been a while since I've had the chance to cuddle a little one. I think the smile on my face tells you everything you need to know about how I felt.
We've got tickets to see "A Star Is Born" on Sunday and I'm super excited. I have a feeling it will be a favorite next week. Hope y'all have a great weekend!