There are several advantages to an empty nest. Can you guess what they are? If you said extra time and maybe even extra money, then you'd be right. While we've still got one child finishing college, we've got one done. All the praise hands here friends.
We've started taking advantage of both of these things by doing a little more traveling. I wouldn't say we have a bucket list per se, but there are few places we'd like to visit, and one of them was Charleston.  So in early September we met friends there and explored for a few days. The word for the weekend was "charming". Everything about this city is simply put, charming. There is no place like the south. I may be partial being a southern girl, but it's more than an atmosphere. it's a culture, a feeling, a way of life. You can just feel it when you're in it. Time slows down, people are polite and there's a warmth. It's really quite refreshing.
We spent 3 days in Charleston and were able to get a good feel for this beautiful city.
We flew into Charleston and got a Uber from the airport to the downtown historic district. Staying in a central location is ideal and makes it easy to walk for touring and access to restaurants, and believe me when I tell you there are plenty of both. A car is not necessary.
The Fulton Lane Inn on King Street was a darling boutique hotel. The rooms are sweetly decorated with southern charm. A continental breakfast is included and can be eaten downstairs or ordered the night before and delivered to your room in the morning.
There is a wine and cheese reception nightly with Sherry available in the lobby at night. If you've spent anytime in the "low country" during the summer months then you'll know that it's going to be hot and humid, and you'll appreciate the cooler by the door that is always stocked with ice-cold water bottles to grab on your way out to tour.
King Street is lined with lots of shopping. You will find everything from small boutiques to the big names like  Kate Spade and Louis Vuitton. Whether you are a stroller or a big time shopper, this is a great street to stay on, being convenient to shopping and dining options galore.
We took advantage of a (2 hour) walking tour at 9:00 in the morning. We booked ours through the Oyster Point Tour Company and Palmer, one of the owners was our guide. She was extremely animated and informative. I would highly recommend going before the heat of the day really settles in.
Charleston has the nickname of  "Holy City" due to tolerance for all religions and the skyline is full of steeples. One of the tidbits we learned on one of our tours is that no buildings can be taller than the tallest steeple which resides on St. Matthew's Lutheran Church.
This house is the Calhoun House and if you are a Ryan Gosling or Nicholas Sparks fan then you'll enjoy knowing that the inside of this gorgeous home is where the interior scenes for the movie "The Notebook" were filmed.
Carriage tours are literally everywhere. We also took one of these and it's a really fun way to see more of the city and spare your feet. The tour guides all have stories to tell and information to share and are very knowledgeable and you can tell they love their jobs.
The architecture is without a doubt stunning. Colors and shapes abound, and there is beauty on every corner. You can't help but get swept up in the idea of sitting on one of the many porches with and iced tea and just enjoying the beauty.
Charleston is also home to Fort Sumter. Fort Sumter is where the civil war began and yet another tour to be taken. We took this tour on the same day as our walking tour. You take a ferry ride out to the fort and then spend about an hour exploring with a short talk from a guide.
Now let's get to the good part. The food. There is no shortage of places to eat. With all the walking you do, it's easy to eat and not feel quite as guilty while doing it.
MONZA PIZZA & FREDDO GELATO
 We ate at Monza Pizza one night and it was delicious but we made sure to leave room for gelato from Freddo Gelato on our walk back to the hotel. ⭐️⭐️⭐️⭐️⭐️
HYMAN'S
Hyman's Seafood was another one of our dinner choices. They had the best hush puppies. I could have made a meal just on those, and while you're waiting they bring them around. I can totally get on board with that. The tables have little plaques at each seat with the names engraved on them of someone famous who's eaten there and my seat had Martin Sheen. ⭐️⭐️⭐️⭐️
The waiter we had was from Jamaica and was so kind and entertaining to listen to as well.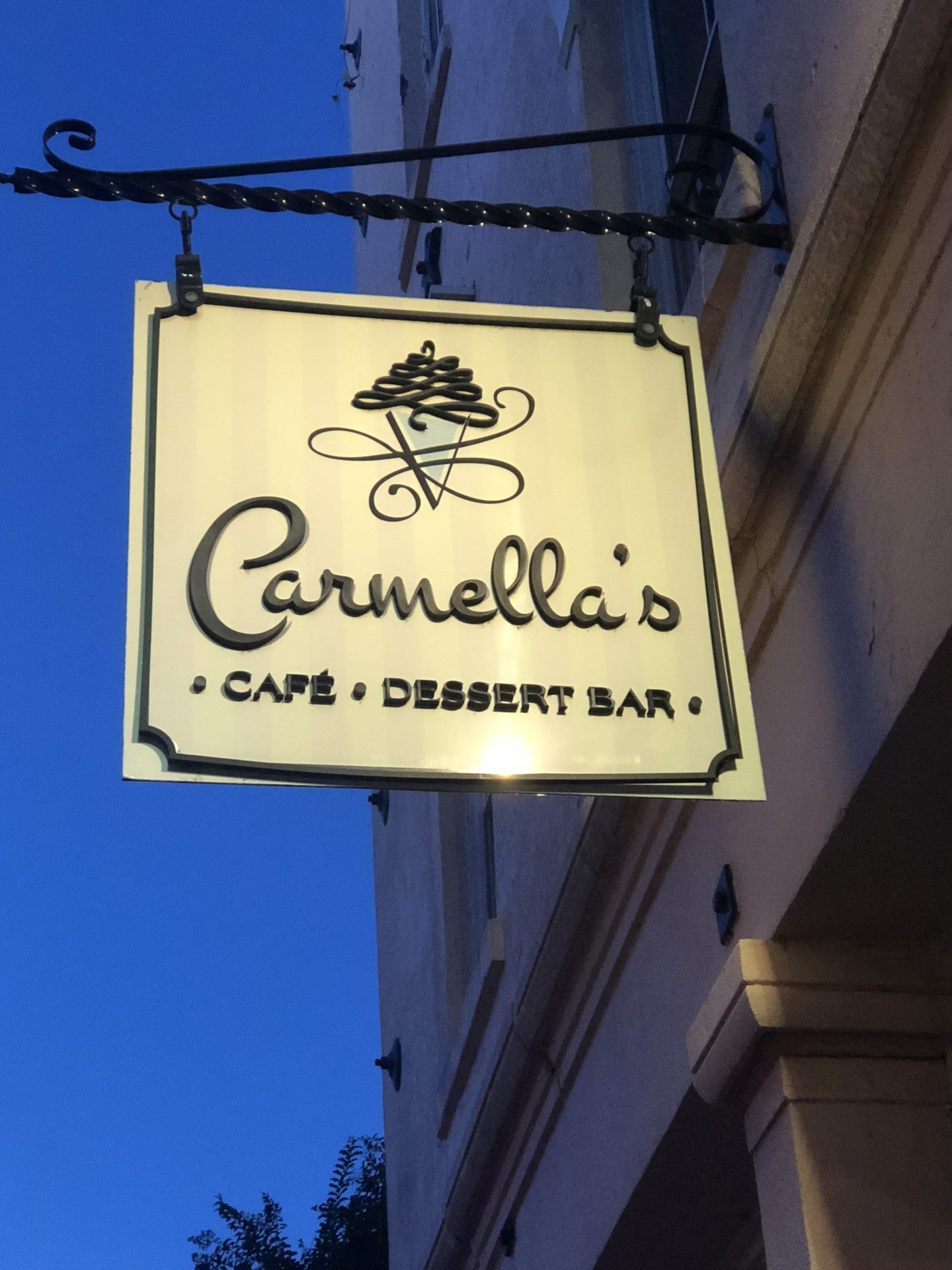 CARMELLA'S
It's no secret that I have a sweet tooth, actually it's more like a full set. I think I'd choose dessert over "real food" at any given time. Someone recommended Carmella's to us and I should probably have sent her a thank you note. Oh my! When you go in and see the case full of pastries and desserts the decision is painstaking, and after having dessert there on our 2nd night, we went again the next afternoon right before heading to the airport for another something yummy. So good!!! ⭐️⭐️⭐️⭐️⭐️
POOGAN'S PORCH
Poogan's Porch  was on a lot of lists from my research as a great place to eat. We made a reservation for Sunday brunch and it was probably the favorite meal of the weekend.⭐️⭐️⭐️⭐️⭐️
Right at the hostess stand there was a big bowl of Charleston Chews. This falls under the category of 'it's the little things'. First, I just thought it was so clever and second, I'd never had one and now I'm wondering where have they been all my life? A marshmallowy goodness covered in chocolate. Checks all the necessary boxes for a candy in my book.
We had to try the Pimento Cheese Fritters and if you go, you should too. It doesn't get any more southern than these little fried balls of yumminess. They are served with a green tomato jelly that was the perfect accompaniment of sweet to savory.
Everyone gets biscuits!!!! Enough said.
Kent couldn't resist and got the chicken and waffles and has been talking about them ever since. I gotta' say, you know my fork found its way to his plate and it was tasty.
Shrimp and Grits. Also delicious.
And because I was trying not to completely blow my wad while we were there I had the omelet and side salad. Still delicious and I didn't feel nearly as guilty eating my cake before heading to the airport. HA!
There were a few places we ate and I didn't take pictures.
Smoke BBQ (really close to the outdoor markets). Elizabeth and I had salads with a side of the best BBQ pulled chicken I've ever eaten. The place was pretty empty when we went in and the ambiance isn't much, but the food was good and we were glad we didn't bolt. ⭐️⭐️⭐️⭐️
Amen Street Fish & Raw Bar was where we had our first lunch. Three words. Fried Green Tomatoes. We had them as an appetizer and I had a fried green tomato BLT. Again, it doesn't get any more southern than that. ⭐️⭐️⭐️⭐️
When you're walking on King Street make sure you look down. There are sections of bricks with names on them and some you will likely recognize.
Charleston is the perfect place for a weekend getaway for two or with friends. So much to see, do and eat and full of southern charm.  Definitely a place to spend a little time in my book.