Welcome to another edition of the Ageless Style link up. The first Tuesday of every month ten over 40 bloggers present a different style theme and show a myriad of ways to wear it, all the while proving you can still be fashionable and on trend over 40 and beyond.
September was my month to choose our theme, and with the ever-growing popularity of cardigans I thought what better prompt than "The Power of the Cardigan".
Up until last year I had never worn long cardigans. I had plenty of short or cropped cardigans that all buttoned up the front, but hadn't ventured out past that. I was curious about the origin of cardigans so I turned to our good friend Google who sent me to Wikipedia and here's what I learned:
The term originally referred only to a knitted sleeveless vest, but expanded to other types of garment over time. Coco Chanel is credited with popularizing cardigans for women because "she hated how tight-necked men's sweaters messed up her hair when she pulled them over her head."[6] The garment is mostly associated with the college culture of the Roaring Twenties and early 1930s, being also popular throughout the 1950s, the 1970s and the 1990s. Cardigans have also regained popularity during the 2010s.
(taken from Wikipedia)
So it looks like about every 20 years the cardigan makes a comeback and Thank You, Coco for your foresight. #thatswhyshescocoandimnot I have happily embraced the cardigan and gone from zero to sixty in a short time adding multiple cardigans to my closet.
I'm sharing a look back at some of my everyday ways I wear a cardigan. Honestly, more times than not, I have a cardigan with me even if it's 90+ degrees out. Stores and restaurants are always cold and I can't stand being cold…except for at night when I'm trying to sleep. Crazy, I know! #menopauseisabeast
For any items still available I'll link under the picture and at the bottom I'll share a lot of great cardigan options, and believe me, there are plenty out there at all price points. See, that's 'the power of the cardigan', something for everyone and versatile year round.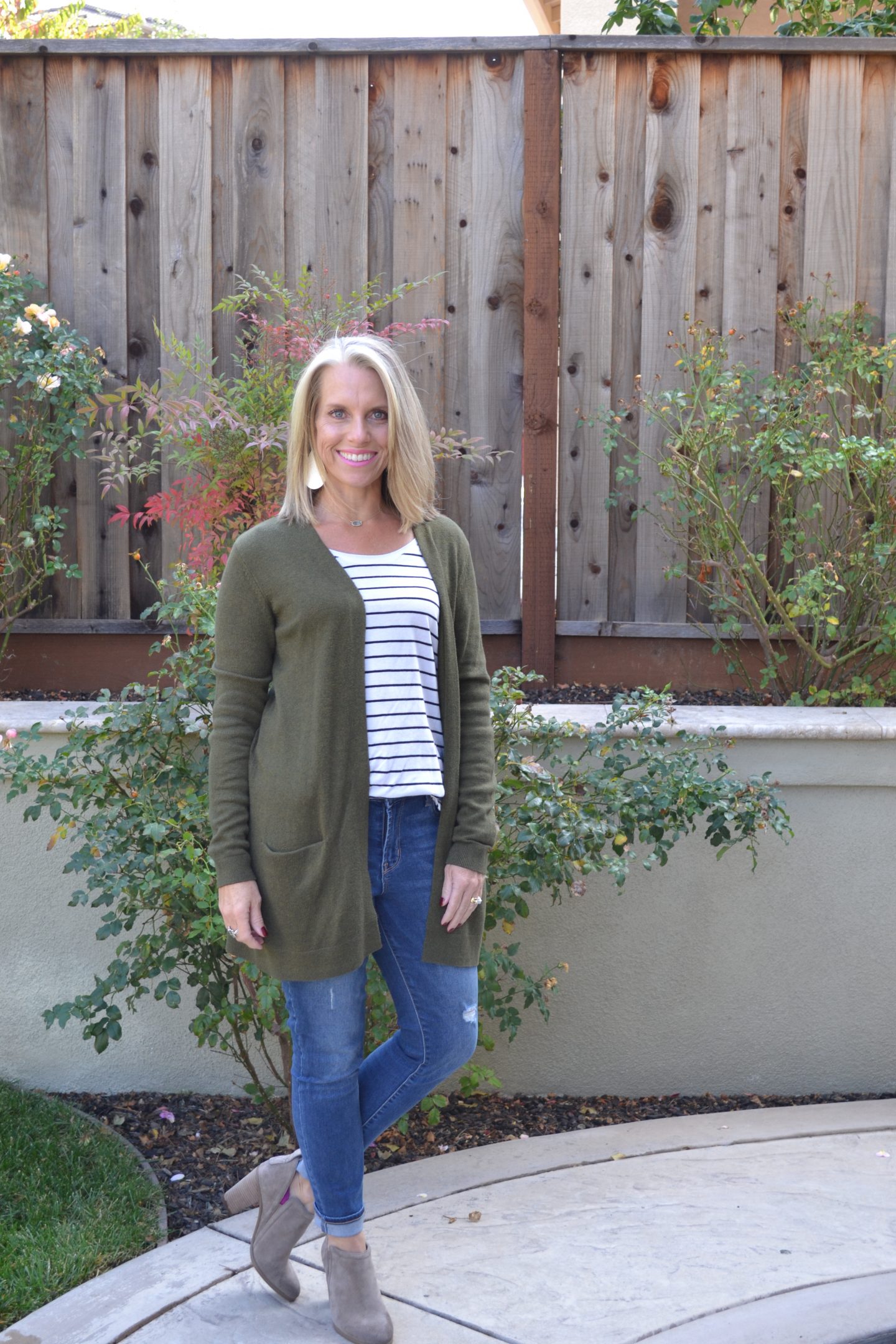 JEANS / TEE / BOOTIES / EARRINGS
JEANS / CARDIGAN /  WEDGES / NECKLACE
JEANS / CHAMBRAY SHIRT / MULES / NECKLACE 
 SWEATER / BOOTIES / NECKLACE / EARRINGS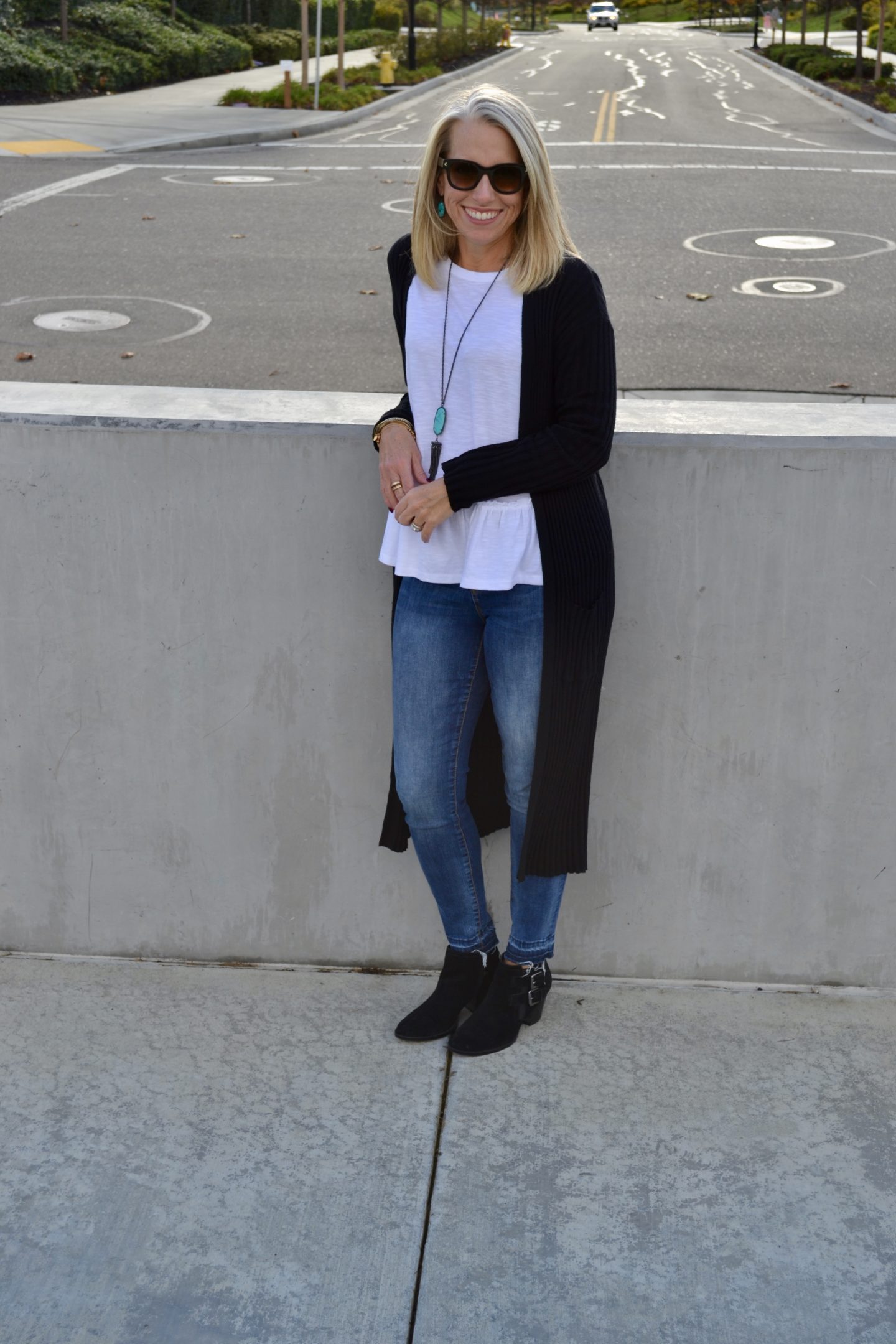 JEANS / TOP / SWEATER /  NECKLACE  (DESIGN BOTH IN COLOR BAR) / EARRINGS
SO MANY CARDIGAN OPTIONS….

Each month we invite another over 40 blogger as a guest host. I didn't have to think twice about asking my sweet friend Andrea from Living on Cloud Nine to join us, and was thrilled when she agreed.
Andrea has the most wonderful sense of style and her blogging doesn't stop there. This lady can cook and makes you want to try every.single.thing. She has a darling family and shares her life and loves with us weekly. If you aren't already "following" her, you're going to want to change that.
Find Andrea's blog here and on Bloglovin' / Pinterest / Google+ / Twitter
Daenel ~ Living outside the stacks blog, instagram, pinterest, twitter
Debbie ~ Fashion Fairy Dust bloglovin, blog, instagram, pinterest, facebook, twitter
Jennie ~ A Pocketful of Polka Dots blog, instagram, facebook, pinterest, twitter, bloglovin
Jodie ~ Jodie's Touch of Style blog, facebook, instagram, pinterest, bloglovin, twitter
Jonet ~ Fabulously Chic Over 50 blog,  facebook, , instagram, pinterest, twitter
Kellyann ~ This Blonde's Shopping Bag blog, instagram, bloglovin, twitter
Lisa ~ Coast to Coast blog, facebook, instagram, twitter, pinterest
Paula ~ Dimples on my What blog, facebook, pinterest, instagram, twitter
Shelly ~ The Queen in Between blog, instagram, bloglovin, pinterest, facebook
Loading InLinkz ...