Another week has come and gone and here we are almost half way through September. Can you even believe it? In our house we have now entered what is called "the birthday season". Kent's birthday is next week, and then in the first half of October we have my birthday, our anniversary and Katie's birthday. Let the celebrating begin.?
I didn't even do a Friday Favorites last week, but this week I've got some good stuff to share with you. I'm linking up for some added fun, so if you're looking to find some new blogs to read, hit the link ups tab and see who I'm joining.
It's  beginning to look and feel a little like fall around here so pumpkiny things are slowly starting to make their appearance. I've been keeping an eye out for a few fall pillows and I was in TJMaxx the other day and spotted this one. I knew as soon as I saw it that it would be perfect for this chair, and I wasn't wrong. I love it! I've rounded up some great alternatives for you to shop here….

And of course I had to add a new fall mug to my ever growing collection. Where did I get it, you ask? Of course I think I picked it up at either TJMaxx or Marshalls. Who can remember? HA!
Shop mugs here…

I sometimes share things on Instagram that don't make it to the blog. (an excellent reason to be following along there?) QVC strikes again with my favorite duo of an awesome brush and under eye concealer only a little better with illumination. Both of these together are less than the brush alone. I LOVE this brush and honestly considered buying another one just for that alone. Purchase HERE. I have the big tube in the regular waterproof under eye concealer and honestly I think it may last the rest of my life. HA!
I also shared on Instagram yesterday that QVC currently has the Barefoot Dreams hooded cardigan on sale even cheaper than it was during the Nordstrom sale. Time to get those gifts for moms, sisters and girlfriends. Get yours HERE. Most days you'll find me wearing mine as a robe, but I also grab it to go out too. It's perfect for the movies, flying and errands.
Okay, so since doing the Faster Way To Fat Loss last year I think I've eaten pasta a total of 2 times. WHAT? Yes. Do I miss it? YES, but I got out of the habit of making it and have tried to keep it that way. I had seen this pasta that's Gluten Free and made from veggies and thought I'd give it a try. Quite honestly I expected it to be disgusting but WOW, was I wrong! Kent said if I hadn't told him, he'd have never known the difference. So if you are craving a little pasta this is a great alternative to satisfy that.
If you are looking for a good program to teach you a better way of eating and a good exercise program then I highly suggest the FASTER WAY TO FAT LOSS. I learned a lot about the combination of foods, the amounts of carbs, protein and fats needed to achieve a healthier lifestyle. I don't adhere to the program as rigidly as when I was actively doing it, but I have implemented a lot of aspects (like less pasta) into our lives. There are new rounds starting about every 6 weeks and one is starting Sept 17th. Click here for more info or to sign up.
As much as I've been traveling lately, I thought this was totally appropriate.
I was dying laughing when I saw this in a gift shop last week in Charleston. Yes friends, leggings are not pants, but you can wear them out as long as you covering ALL.THE.THINGS!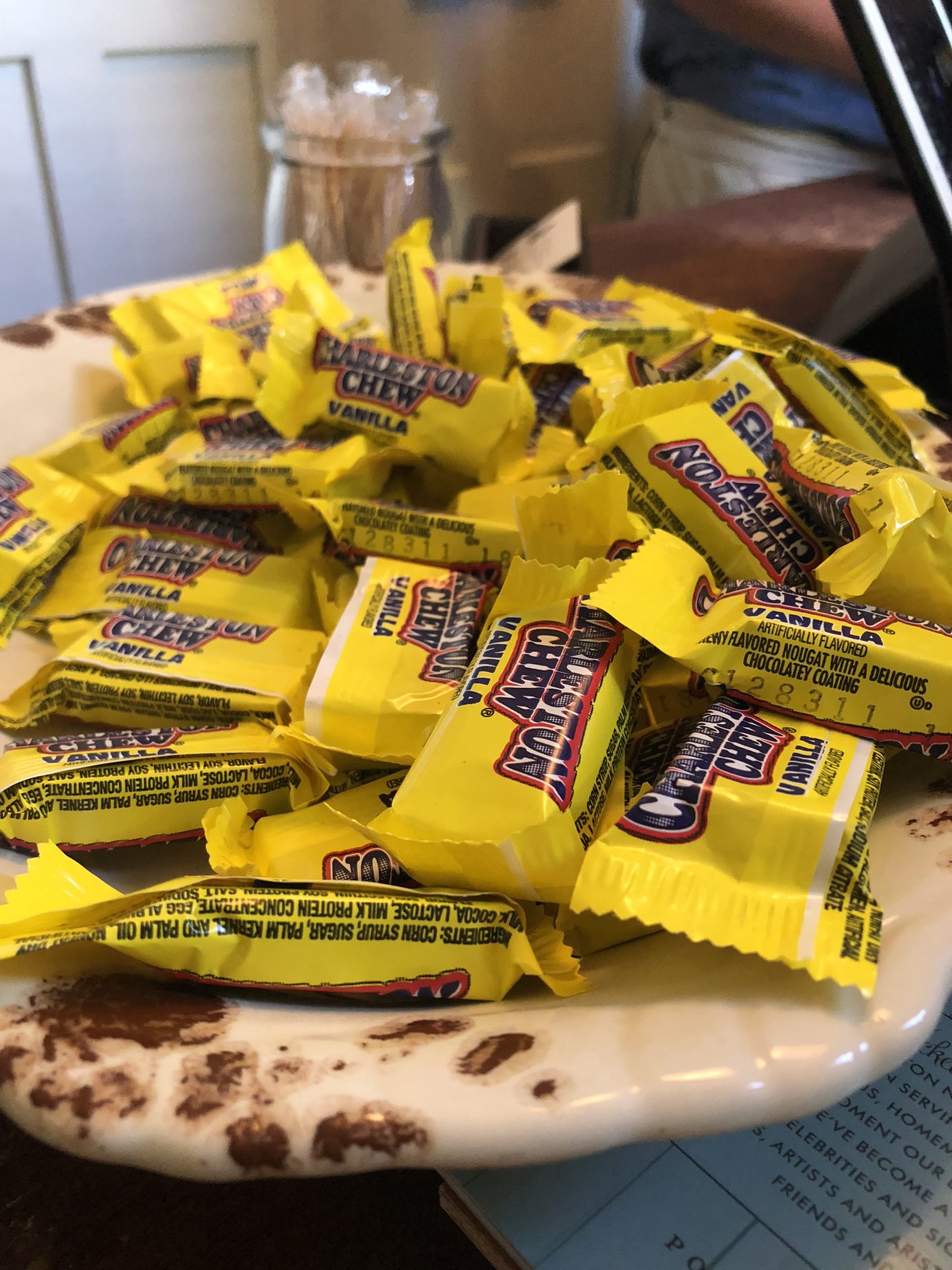 Well when I saw these in one of the restaurants we went to I thought it was so clever. When I tried one I thought, "Where have you been all my life?" Oh my goodness! So delicious. It's a marshmallowy-nougety filling surrounded by chocolate reminiscent of a s'more?! If that description doesn't have you wanting one, I don't know what will.
Last but not least. Two things. First, I'm going to see these two in 2 weeks and can't wait! Second, these earrings are some of my absolute favorites. They are the first pair I purchased from Nickel & Suede. They go with everything! I was really nervous about the size and afraid they'd be too big. (these are the mediums) Well I can't begin to tell you how much I love them!!!! They are so lightweight, I don't even realize I'm wearing them. Today is Buy One, Give One day at N&S and they have a selection of earrings that are two for the price of one. This pair is one of them! Here are few of my personal picks from this sale.

Okay friends, that about wraps it up for this week. I hope you have a wonderful weekend and if you are on the East Coast we are praying for your safety.