Have you ever wanted something, but just really felt like spending the money on it wasn't practical? I think there are a whole bunch of us who had this same feeling about the iconic Tory Burch Miller sandals. I wanted a pair of these little darlings for a few years before I finally allowed myself to get them. I bought them last year during the big sale  (to take advantage of a triple points day). Can I tell you that I haven't regretted this purchase for a single second? Well I haven't. I wear them all the time and while I'm kind of ashamed to admit this, I don't love them because they offer some super quality like comfort (although they are comfortable), but I love them because they are "Tory Burch Miller sandals". They're cute and trendy and it's kind of like some weird sister-hood.
When you pay what I consider to be top dollar for a shoe or accessory, you naturally want them to last.
Last summer they faired pretty well and didn't show too much wear, but this summer they started looking pretty dirty. I kept meaning to do something about it and then I'd forget. Well I finally remembered to clean them one day this week and thought some of you just might like to know how I did it. It's a little nerve-wracking to mess with a leather shoe and wonder if you're going to accidentally ruin it.
See how dirty they were?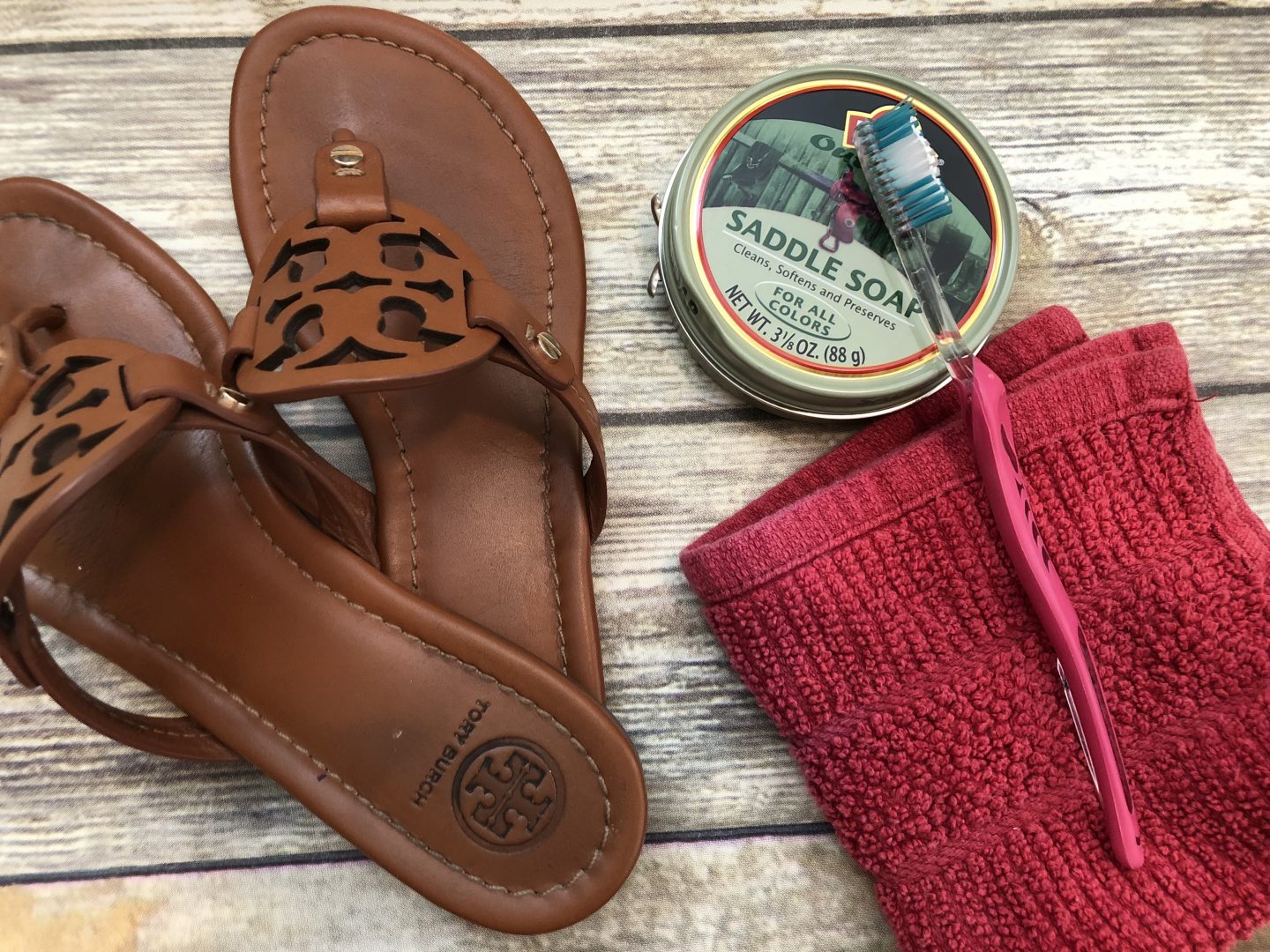 Are you familiar with Saddle Soap? I bought this tin of saddle soap years ago, like over a decade and it's still going strong. I originally purchased it to clean the leather seats in our van, back in the day.
I decided that if it was okay to use on leather seats, it would probably be okay for leather sandals.
I used a toothbrush that was wet, rubbed it on the surface of the saddle soap and then scrubbed the dirty areas of my sandals. You can wet the toothbrush a little more if it's not lathering up. Then wipe off the soap with a clean, soft cloth.
Check out the before and after. Wow, what a difference!
I want to do all I can to make these last as long as possible. If you have a pair, have you cleaned them and if so how? Maybe you have an even better method.
Shop sandals and saddle soap here…