Now that summer is in full swing, temperatures are up, days are longer,  we don't want to heat up the kitchen. We find ourselves turning to the grill and enjoying all things summer. Burgers, grilled chicken, pork, steaks, and  grilled veggies are frequently on the menu. I thinks it's funny how there a certain foods that are really seasonal. I'm looking at you corn on the cob. We don't eat corn on the cob in the winter and we don't eat roast or chili in the summer. It just wouldn't seem right.
One thing we do eat a lot of in the summer is salads of all kinds. Some of our favorites are Asian Chicken Salad, Buffalo Chicken Salad, and Fish Taco Salad, but we don't always have a salad that's a main dish. I also love a good salad as a side. Grill up a protein and add a salad and you're good to go. You'd think maybe you'd lose a little weight in the summer with this meal formula, but maybe the ice cream that seems to come with summer offsets that. HA!
This Cucumber and Avocado salad couldn't be easier or more delicious and is perfect to throw together for a summer side and it's also low carb. Cucumber, Avocados and Feta are all on the low carb side.
#YIPPEE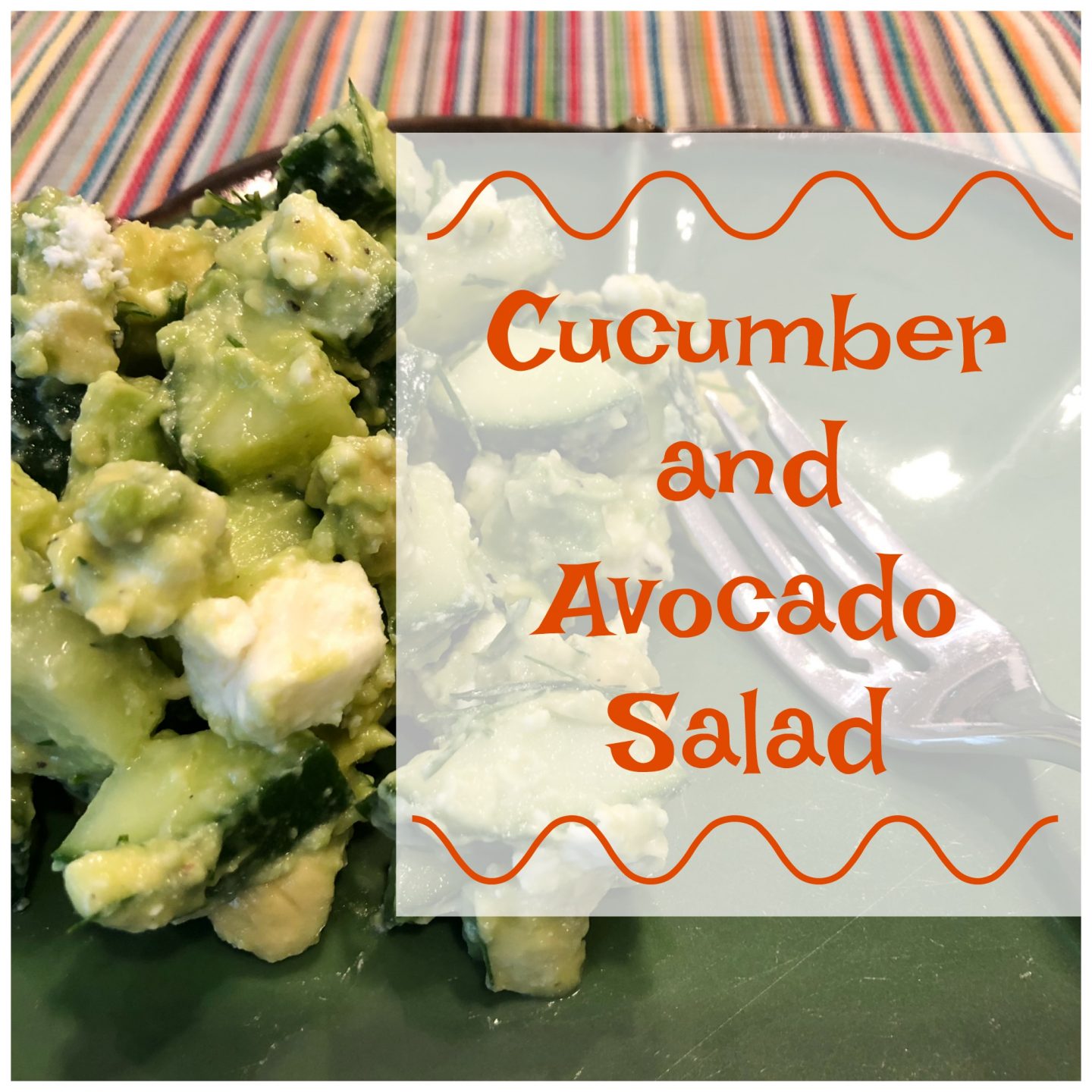 Easy Peasy shopping list
English Cucumber (I used a half)
Avocado (1 large or 2 small)
Lemon
Fresh Dill
Feta Cheese
I'm sure your run of the mill garden cucumber would work fine, but English cucumbers are my cucumber of choice. The skin is more tender and the seeds are supposed to be less likely to cause #burping. With that being said, I still choose to remove the seeds before dicing. I just use a regular spoon and run it down the center of a cucumber that's been halved lengthwise to remove the seeds, then chop/dice in small pieces.
Combine all ingredients in bowl and gently toss.
The avocado will make an almost creamy sauce on the salad.
So here's a recap
Chop cucumber and avocado
Chop Dill
Add desired amount of Feta
Squeeze the juice of a large fresh lemon over top of salad
Add salt and pepper
Gently combine
Enjoy
This salad is best when eaten soon after making and does not store well
Enjoy and Pin this graphic for easy access next time you need a delicious, quick, easy side salad. I also will eat this for my lunch some days and I think a little shrimp or salmon thrown in would be so delicious.