Happy Monday friends! I am happy to report that we had a very low key, do whatever the heck we want kind of weekend with no bumps. Kent had a great Father's Day. I surprised him with movie tickets to see Oceans 8, which he really enjoyed. We like to go to a theater with the recliners and watching movies this way is so much better than your regular ol' theater. He (we) got to FaceTime with all the kids and just enjoyed the day. I hope the men in your life were also able to enjoy their Father's Days as well.
Between the wedding and funeral I had a chance to pop into Old Navy and try on a few things, so today I'll share a mini try on session with you. I find that Old Navy is usually hitting it out of the park or just bunting. (you'd think I was a sport enthusiast with my comparisons, but I'm really not. HA) Honestly, I'm not quite sure what this season is as far as ON goes. I found several things that were tempting and some that were not so much.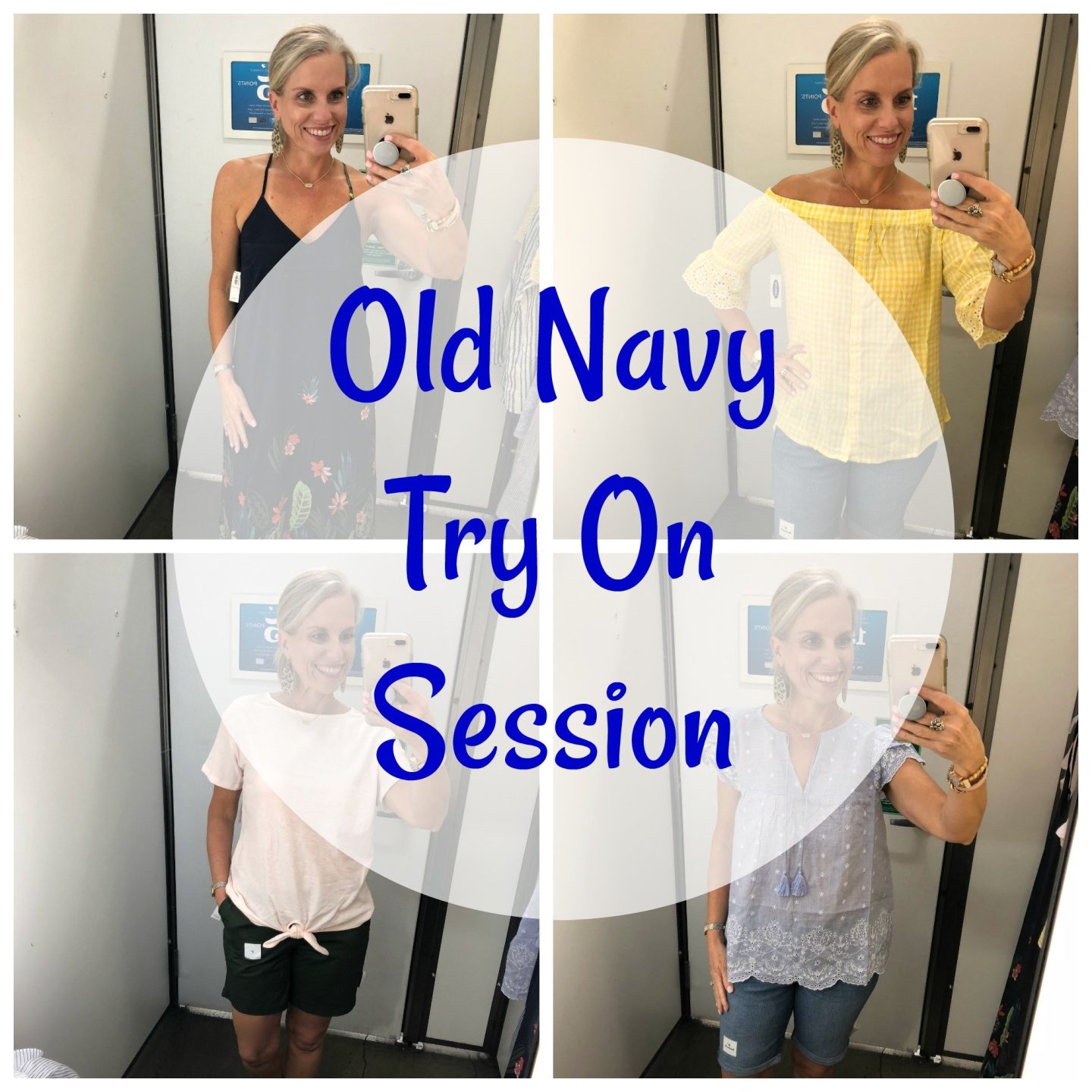 SHORTS / TOP / SANDALS / EARRINGS / NECKLACE
This tie front top was cute and comfy. It's a very pale pink and I couldn't find that color online, but found some others to link to. I went out on a limb and tried on some shorts. These are 5″. I'd really probably like 7″ which is a little longer but not quite Bermuda length. All the shorts are currently 50% off making most of them about $12 and that's a bargain, so if you are a shorts enthusiast, hit them up.
DENIM SHORTS / TEE / SANDALS / EARRINGS / NECKLACE
I'd love a cute pair of denim shorts that are a short length with raw hems and distressed, but I just can't wear them. You know how your kids are always yammering on about "life's not fair"? Well that's exactly how I feel when it comes to my legs. I've been exercising for over 20 years and eat pretty darn good and still I'm plagued with an abnormal amount of cellulite on the front of my legs, especially for someone my size. I'll be totally transparent with y'all too. When I have pictures like the first on in green shorts, I do retouch the places that look so bad due to my own vanity. #ihatecellulite Moving on to the tee, this is a good tee as far as tees go. Nice and soft, and thick enough not to be flimsy.
SHORTS / TOP / EARRINGS / NECKLACE / SANDALS
I adore a sweet little top with feminine details. I know that's no surprise to y'all at this point. Eyelet is precious and summery and I think the scalloped hem is just soooo cute. As if that wasn't enough, add in some tassels. This would be so cute with a pair of white jeans for a fun girls night out or date look.
SHORTS / TOP / EARRINGS / NECKLACE / SANDALS
I love this top in theory, but it's really thin. I think it could still be okay, but I'll also tell you the elastic around the shoulders ran big and you'd want to think about sizing down. I'm a sucker for gingham and add that sweet eyelet border on the sleeves takes it right over the edge. How cute would this be for a backyard BBQ? I could feel my inner Ellie Mae coming right out. LOL
SHORTS / TOP / EARRINGS / NECKLACE / SANDALS
This halter style top was my favorite. There's just something about this cut that I love. It's so flattering on your shoulders and more fun than a tank top cut. It's also available in several prints and I am now dying laughing at myself because as I look at it on the website I realize I have it on backwards. LOL!!! So here's the good news, you can wear it with the V in the front or back as far as I'm concerned. I am seriously keepin' it real with y'all today! #firstcellulitenowbackwardstops
DRESS
I managed to put this dress on the right way. HAHAHA! We have to be able to laugh at ourselves in this life ladies. I was super surprised when I got in the dressing room and found this little dress (along with several others) had a built-in camisole slip. WHAT? Thank you Old Navy for realizing we don't want to wear paper-thin fabrics that can be seen straight through when the sun shines. A+ for you. If I hadn't already purchased the next blue and white striped dress from Old Navy, I'd have probably brought this one. I love the lace up detail and cute embroidered type trim on the top.
DRESS / JEAN JACKET / SIMILAR WEDGES / NECKLACE / EARRINGS
See, this one is super cute too and it looks like no longer available, but it does come in chambray and that's available. It's also fully lined and so comfortable. I'm feeling like this is the summer of dresses for me. Everywhere I go I see another one (or two or three) I want.
MAXI DRESS
This one was the big winner for the day! By far my favorite. It was the perfect length on me, loved the cut of the top, soft fabric, dark and very flattering. It was all things wonderful and I just might have to give in. OH and it's currently 50% off, so basically a steal. How cute will this dress be on vacation or just dinner out, heck it's so comfortable you could just wear it around the house and feel all fancy like that.
SHOP THIS POST
Before I go, just let me put in a plug for following along on
Instagram
. Sometimes things make it on there that don't make the blog, so don't miss out, and if you're following there, you may as well follow on
LIKEtoKNOW.it
too. That's a super easy way to get outfit details all in one place.
Here's to a great week!!!