Hey friends! Can you believe Sunday is July 1st? Me either. Where is 2018 going? We're at the half way mark. You always hear people say the older they get the faster time goes and I can for sure see that. I'll tell you what I'm the most excited about at the moment. V.A.C.A.T.I.O.N We leave for vacation in 3 weeks and I am oh so ready for a little sun, sand and R & R. I found out yesterday that hopefully Katie and Luke (the boyfriend?) will be able to join us for at least part of the week. Woohoo!
For now it's time to get linking and listing. Let's find out what things made me happy this week and landed on my favorites list.
By far my favorite thing this week was finally getting to meet Kellyann. So many of y'all have said how much you loved that we got to meet, and y'all are just so sweet. I really wish there was a way we could all get together and meet each other. I know there are blogging conventions, but it's so hard for everyone to get to the same place at the same time. #futuregoals
Seriously! I hate it when this happens, but it did make me chuckle so that made it worth sharing.
If you saw my recipe post yesterday then you might have noticed this??in one of the pictures. This is the lemon juice my mom buys and therefore I buy it too. #likemotherlikedaughter It's located in the freezer section. I usually buy them two at a time so I know I have a backup. I think it just seems fresher than the kind in the green bottle.
If you need a good dessert recipe for your 4th of July celebration next week, give this one a try.
Here are several outfit ideas perfect for celebrating on Wednesday. I shared a post with all kinds of possibilities on Monday. I'm not much on pushing a big 4th of July theme, but I do like to wear a little symbolic color. All 3 of these outfits are fitting for such occasion but I can also wear them on a run of the mill day without feeling conspicuous.
SHOP THESE LOOKS

There are sales o'plenty this weekend. Most retailers are getting a jump on the holiday and starting sales early. #shocking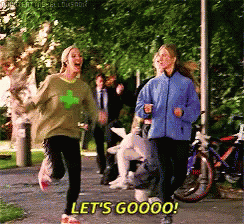 Follow these links and get some deals….
25% OFF Sale prices. Here are some of my top picks

50% off select tops and 40% off EVERYTHING else with code: HBDUSA
50% off EVERYTHING

Have a great weekend friends!!!