I've shared a few things I scored during the last Loft sale, but there was a lot more that I haven't shown you yet. I ordered, and then ordered some more. I mean after all, isn't that what we're supposed to do? Kent is just sure all these retailers have my picture up somewhere with the caption "look out for this woman". I assure him that I am not the only one buying and returning all.the.time.
Now's the time for me to share all the fun stuff that came to my house because, WOOHOO there's another sale! There were some things I kept, and some I returned.  I liked quite a few items, but unless it really spoke to me and I thought I'd get a ton of wear out of it, it went back. I really like to get a good cross section to share with y'all.
Cross Front Dress / Shoes / Earrings
It's been a while since I've purchased a good LBD and that's something we should all have in our closets. I ordered several and landed on this one. I love a V-neckline and the ruffles. You can see how you can change the look just by changing shoes and accessories.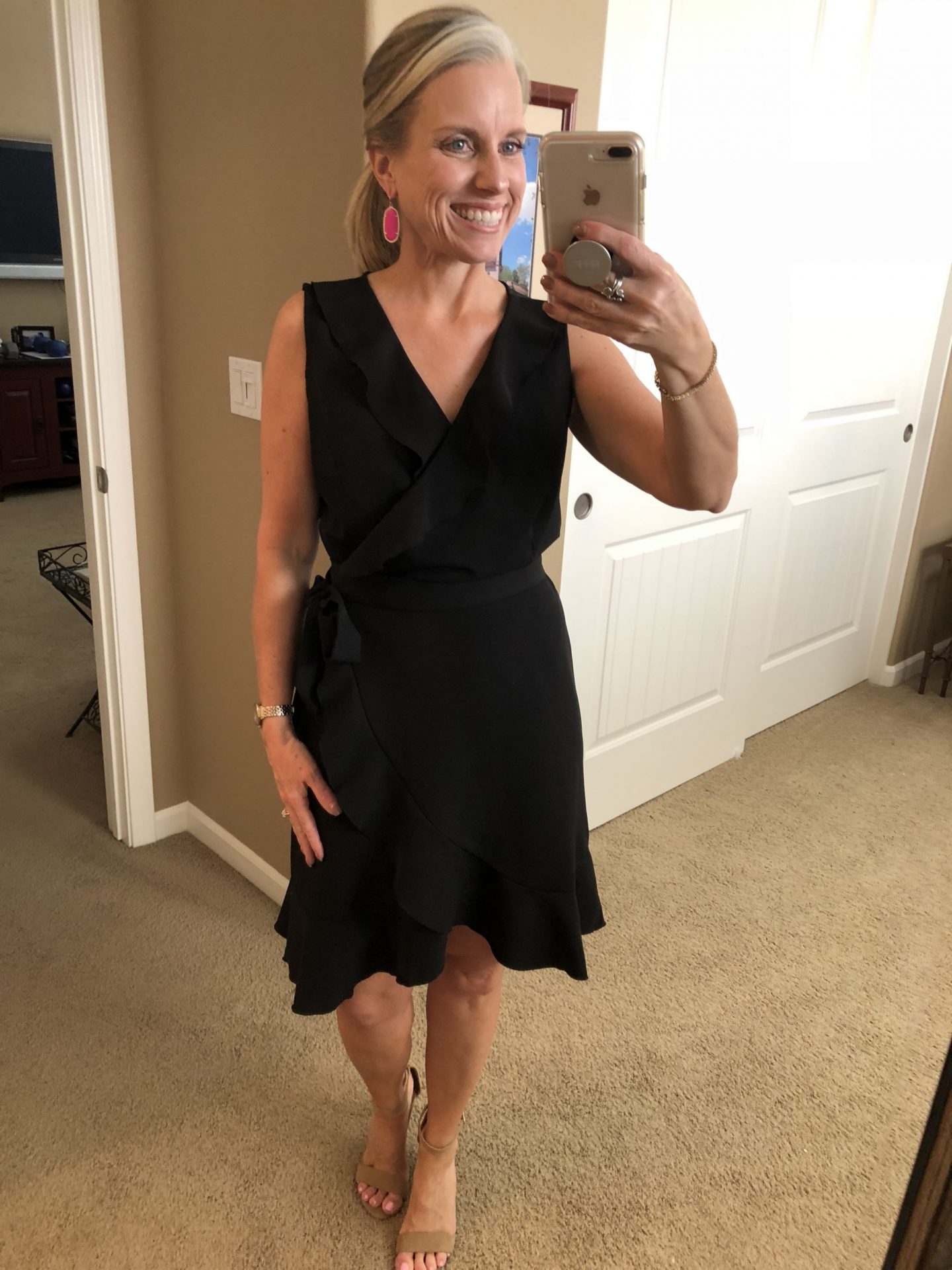 Flutter Sleeve Dress / Shoes / Necklace / Earrings
This one is really versatile in that you can wear it with or without the tie. I really love the ruffles on the sleeves and the bottom, but the neckline of the other one is better for the shape of my face. No what neckline goes with your face shape friends. Oh! I feel a post coming on about how to determine this.
Lace Dress
I thought this one was black and then realized it was navy. HA! I guess I should read the color on the website. #aintnobodygottimeforthat This is a super cute dress and I loved it, it was just too big. I should have ordered either a petite or gone down a size. For size reference this is a 4 and it runs big.
Embroidered Flutter Sleeve / Sandals / Necklace / Earrings
This is a knit dress and the back is a scoop neck which is really cute from behind. The embroidered detail on the sleeve is darling. This one seems to run a little large too. I have on a small and  I think and x-small would be better through the shoulders, but too tight in the hips.
Spring Fling Dress / Shoes / Necklace / Earrings
Yes, I ordered something other than black dresses. LOL I'd seen this one on another blogger and it was so cute. I thought it was ok on me, but I didn't just love it. I did love that it had pockets and that was almost enough to win me over.
OTS Top / Similar Jeans / Necklace / Sandals 
I tried this fun off the shoulder top on two different days. It looks cute with white jeans, but has so many colors in it that you could wear it with almost any color pants. This one seems to run large as well. I'm wearing a small, but if I had kept it (which I didn't) I think I would have wanted an x-small.
OTS Top / White Jeans
These white jeans are just the cutest. They have a double fringed hem and I love them. I kept them and know I'll be wearing them a lot this summer.
Smocked OTS Top / Similar Jeans / Wedges
This smocked off the shoulder top is ah-dorable and I fell in love with it. I ❤️smocking. Look how cute it is with distressed denim but also colored. You can also put it with black jeans for a dressier look.
Tassel Tie Top / White Jeans / Earrings / Sandals
Y'all know I'm not a big tee wearer unless they have some kind of detail and fit loosely. Regular tees just don't do much for my figure. I blame it on being short-waisted. This one has little fringed shoulders and a tassel and who doesn't love a tassel? You can tie it or leave it hanging and it's cute either way.
Sweater
Well all you girls who are still living in colder climates will love this sweater. It's a lighter weight with cute ruffle sleeves, but springy colors.
Striped Cardigan / Tee / Similar Jeans / Sandals
This striped cardigan is super light and flattering. It's got so many springy colors in it and would be the perfect weight for grabbing on a summer night.
Lace Sleeve Tee / Similar Jeans / Sandals
Here's a perfect example of me and a tee. See? It does nothing for my figure, but the sleeves are super cute and feminine. I love the color and if you are a tee wearer, then you might like this one.
Pants / OTS Tee / Similar Wedges / Necklace
Kellyann and I did a two-fer last week with these pants. Oh so comfortable, like wearing your jammies and no one is the wiser. They look best with a fitted top like this tee.
SHOP MY LOFT SALE PICKS

Happy Tuesday!