Hey friends! Here we are and once again it's Monday. Seriously, I'm ready for a 4/3 (weekday/weekend) split, instead of a 5/2. You know what I mean? Are you with me? How do we go about getting that taken care?
So a lot of y'all know our family has a big event at the end of next month. Wow! I can't believe it's almost here. Our son is getting married Memorial Day weekend, which means I've been on the hunt for a Mother of the Groom dress. I thought today I'd share my experience with you and a few tips I learned along the way.
I'd walked through Nordstrom shortly after the engagement just to see what was available. I had a pretty good idea of what I was looking for and saw a couple of dresses that fell into that category.
My original thought was I'd go with a short dress, but I was waiting to follow Erin's moms lead. I already had in my head that I wanted something neutral and then I kept having people tell me this funny little tidbit. They'd say, "You know what the grooms mother is supposed to do? Wear beige and keep your mouth shut!" Sweet, I was already a step ahead. I was looking for beige and doing my very best to keep my mouth shut. (And if you know me, then you also know this was an exercise in self restraint…lol)
I've gotta' be honest with you. I really thought this would be a breeze. I'd order a bunch of dresses from Nordstrom, which I did, and they'd all be wonderful (LOL) and I'd just pick one.
Well, I ordered 8 dresses from Nordstrom and one was the front-runner but was going to take some major alterations, so I decided to continue the hunt, but held on to it as a back up. Now can you believe I don't have a single picture of me in that dress or any of the others I ordered? I'm not sure how that happened, but it sure did. #bloggerfail
Anyway I'm going to share a lot of the other dresses I tried on with you. A lot of them are not flattering and so you have to know that this me being vulnerable and keeping it totally real with y'all. Let me just say, if you've got a child getting married in the not too distant future, start that dress hunt NOW. It was way more difficult than I thought it would be.
Back in January I stopped in Macy's and tried on a couple of dresses that where basically what I had in mind. The problem was that none of them were available in petite and for this style of dress, I was really going to need one.
My plan was to stick to something nice and neutral. Easier said than done.
When Katie was home for spring break and Elizabeth was here we got serious about finding a dress.
The next four dresses are just some I tried at the first bridal shop we visited here in California. The girl who helped us was super sweet, but she didn't have a clue about my style so most all of the ones she brought me to try were big "NO's".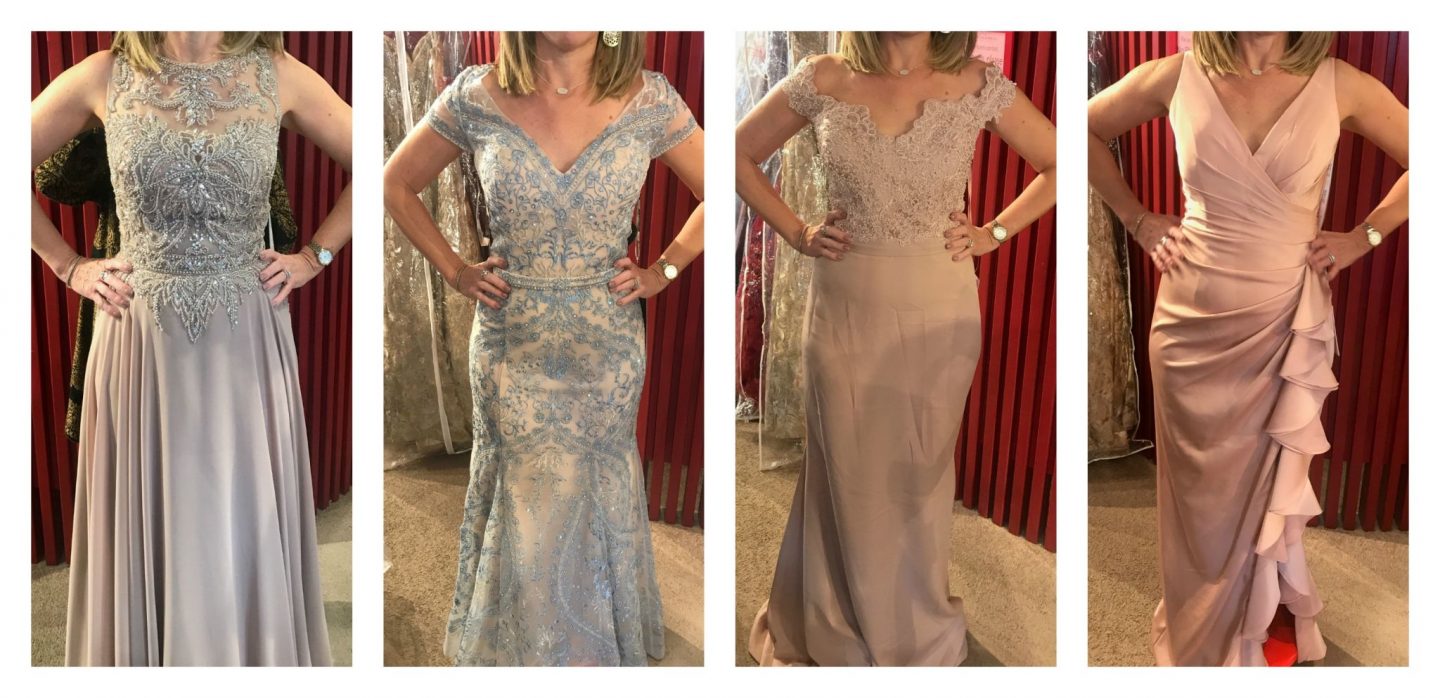 OH, and just let me tell you in case you have never been through this. All the dresses are larger sizes, so you put them on and then they use some huge clips to make them "look" like they fit. If you find "the one" then they order your size.
This was the second bridal shop and we were pretty much on our own and had already been told there was not enough lead time to get any of these dresses, which I'll be honest with you, I find to be pretty incredible. All the other shops I visited would check and see what was and wasn't available, so I find it hard to believe this place can't get any dresses in, in under 3 months. They told us the same thing when we went in looking for prom dresses a few years ago. Never the less we pulled a few just to see if we really loved any.
After the first two stores we extended our search down into San Jose and hit David's Bridal. At this point, I'm beginning to panic. Some of the dresses are ok at best, but nothing has "wowed" us. I did actually like the cut of the black dress, but it was only available in black and there's no way I'm wearing black.
So up to this point, it's looking like I'm going to have to have this dress from Nordstrom basically remade.
I guess you could say Katie's little sickness that precipitated my unexpected last minute trip to Nashville was a blessing, because it gave me another opportunity to look for a dress.
This one was at Macy's and I did actually buy it as yet another back up…but the next day I found "the dress", so I was able to return it.
The day before I was leaving to come home we went to the best bridal shop. The White Room. Several people had recommended it and so I took their advice. Boy-o-boy was I ever glad I did. The girl who helped us was just as sweet as could be and was able to get a sense for me, my style and what I wanted.
The second silver one was a strong contender along with the last one. The last one wouldn't be available in time, so that eliminated it. I think there were a couple more I tried on, but didn't photograph. The dress I actually bought wasn't at all what I was looking for, or had in mind. She brought it out and asked me what I thought about it. I told her I'd try anything she thought I should. Well I'm so happy she brought it and I tried it, because we all loved it. I got a call last week that it's in and when I go back in two weeks for a bridal shower, I'll go in for a fitting and then pick it up when we go back for the wedding next month.??
So here's what I can tell you I've learned. Finding the "perfect dress" is like finding the "perfect man".
1 – It doesn't exist…LOL
2 – You have to kiss a lot of frogs before you find your prince. Same goes for dresses. You're going to try on a lot of NO's before you find the YES!
3 – Find one that meets your criteria and you feel good in. You don't want to spend the day feeling uncomfortable or frumpy.
4 – You know your body type. Don't be afraid to speak up and ask for a certain style or say no to a dress they show you. This is hard for me. I don't want to hurt anyone's feelings, but you will be wearing this dress all day, it will be in pictures FOREVER and you have to be the lead decision maker on this one.
SHOP SPANX COMPRESSION PIECES HERE 
USE CODE LISAXSPANX FOR 10% OFF AND FREE SHIPPING AND RETURNS

I can't wait to share with y'all the dress I ended up choosing. I do occasionally wonder if I picked the right one, and then I go back and look at the pictures and I'm reassured.
Happy Monday friends and here's to young love and being the Mother of the Groom! Love that boy of mine!
For a look at the wedding and the dress I chose, go to this post. 🙂