Hi friends! Well I hope you had a wonderful weekend…however, if you are some of the unfortunate people up north who got pounded with over a foot of snow, I am so sorry! Seriously! After spending 3 winters in Minneapolis, which is one of the places that just can't seem to catch a break, I totally get it. I remember we'd be getting snow flurries in the beginning of May and I'd tell Kent if it was still snowing in June…we'd be having to have a talk. LOL Hang in there y'all, spring is coming. I promise!
I decided to share a little this and that with y'all today. You know I've been singing the praises of my dipped nails for the last 6 months. Well when I went in last week I tried to find the numbers of the polishes I've had so far. I know for me it's helpful when I can actually see a polish on someone. It's so hard to look at that little plastic finger nail and tell how it's going to look on your hand. I know the first one is right, but the others are an educated guess.?
 You can see in the lower right corner how long I let my nails go before I go to have them redone. That is after 4 weeks, so I really stretch a manicure.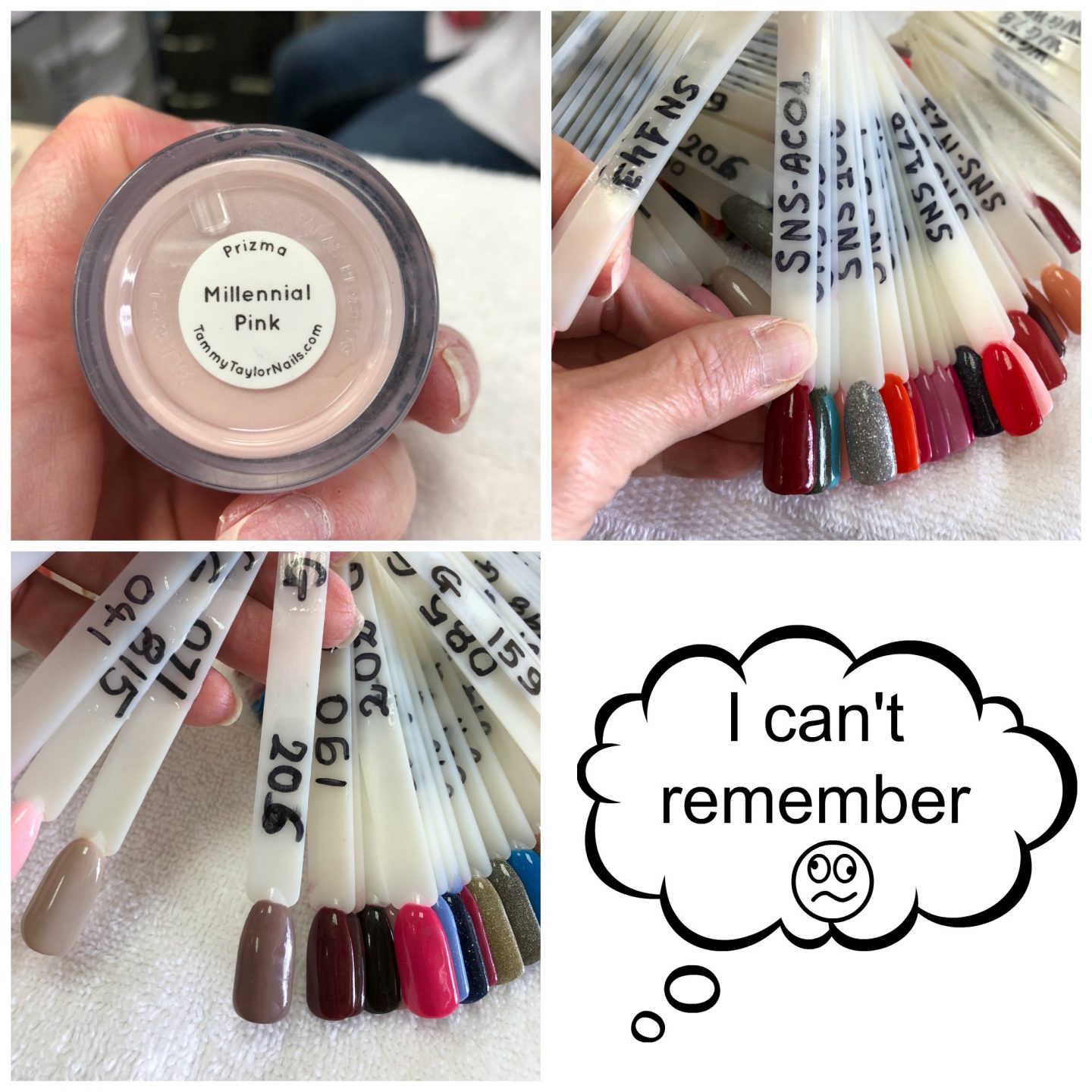 The first color I chose has been my favorite up until this last time I had them done. I LOVE, LOVE, LOVE this new pink color and just might keep it on all summer.
If you are getting shellac nails, you should really try the "SNS" dipped nails. I can't say enough good things about mine and the girl who does them is excellent. I get 3 coats/dips because if I only get 2, I always crack at least one nail.
Apparently I was keenly aware this weekend that we are in fact empty nesters, because I found myself sharing our "empty nest" outings on Instastories. (Follow me on Instagram here).
For any of you who are going to be entering this stage of life in the next few years, let me just assure you that it will not be as bad or scary as you are fearing. We were terrified that we'd be so sad and lonely, and while we miss our kids with all our hearts and talk about them incessantly, it's also fun to just do what we want when we want.
I tried one of my latest ipsy products on Saturday. A detoxifying hair mask. I washed my hair, and towel dried it. Then you apply this mask and let it sit for 5 minutes. It removes residue and impurities from the hair without removing the natural oils. I actually really like it. My hair seems to stay pretty damaged from the chemicals in our water and it felt much softer after this treatment, so I'd give it ????.
Saturday we got our invitation to the wedding. They are so beautiful. Erin's grandmother is very talented and did the calligraphy on the invitation and all the envelopes…and notice the cool stamp. ❤️
Friday afternoon I went to Target and again, if you saw my Instastories (are you convinced you should be following me yet?) then you know I was excited to find "words" for my felt board. I've been seeing these all over the place and wondering where they were from. They come in different colors and themes and are only $2.99/pack. I bought the 'farmhouse' and 'everyday' packs. I also found these on Amazon.
They also had a great selection of the boards with different colors frames and backgrounds. Just FYI, these aren't felt, they are a plastic-y material.
I was cruising the ends looking for bargains and found a bunch of nice towels on sale, so those came home with me too. I then felt like this when I got to the register.
Okay friends, that's it. Time to get this week going. We leave Thursday for Nashville to go to a bridal shower for our future daughter-in-love. That's how we truly feel about this sweet girl that we are adding to our family in SIX WEEKS!!!