Time for some Tuesday fun
It's Show & Tell Tuesday!   Twice a month Andrea over at Momfessionals hosts a link up for bloggers to show & tell ya something.  Today's theme is all about sharing our life's mixed tape.  So, thinking back over our life, what songs would we associate with certain time periods.
Now if you're like me, you can barely remember what you listened to yesterday so I wasn't really quite sure how'd I'd ever pull this off. Once I started thinking about it though I was able to remember more than I thought I would.
#beforechestwaxing
In the late 70's the Bee Gee's had the song Tragedy come out. I can't hear this song even today without thinking of my brother and our version of that song. When you and your "little brother" are only 13 1/2 months apart you become partners in crime for life. When the song said "Tragedy when you lose control and you got no soul" these 2 elementary schoolers tweaked it a bit…
"Tragedy when you lose control in your toilet bowl".
HAHAHAHAHAHAHAHA!!!!
#keepinitreal
Are you singing that in your head now? And I apologize for ruining that song for you now every time you hear it. I have to tell you my kids got a HUGE kick out of that story when I shared it years ago.
Ok, I promise we didn't deface any other songs, so lets move on.
Starting in late elementary school and middle school I'd have to say MJ…
I can't hear songs off the Michael Jackson Thriller album without thinking about my friend Erin or my cousin Angie. It's funny how music can take you right back to a place in time.
And if PYT comes on the radio like it did last week when Kent and I were in the car, you'd better believe I'm dancing in my seat and belting it out. It just makes me happy! (and Kent just looks at me out of the corner of his eye and wants to shake his head)  
Same goes for Lionel Richie.
Moving on to high school. I'd have to say Chicago would be one of my anthems. Love them to this day and some years ago Benny was tuned in enough to that, he got me a Chicago CD. I was thrilled not only with the CD, but that he was actually paying attention to me.
#againlovethatboy
Dionne Warwick and Friends came out with "That's What Friends Are For" during my high school years and this one floods memories back for me when I hear it too.
Of course who can't identify with Grease? This is one that I've passed on to my daughter. Again, I can't hear a song from this album come on the radio and immediately become happy and start singing along.
#lovemesomejohntravoltaandolivianewtonjohn
.
So moving on to college…
Janet Jackson's Rhythm Nation This immediately brings pictures to my mind of a show we did in college called Singarama. Oh what fun we had all those late nights practicing for it.
#memoriesforsure
                                                                                           Alabama
The first concert I went to was Alabama. A group of friends on the lawn at an outdoor ampitheater. We had a ball!
College days also bring back memories of the song "Don't Worry, Be Happy". This became a catch phrase for a lot of the late 80's and early 90's.
Time to pick up the pace. The 90's were went time really picked up speed. Marriage and babies, need I say more?
Kent and I loved Celine Dion but honestly, it was more likely you'd find us listening to this…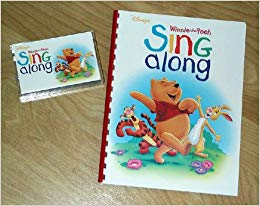 WINNIE THE POOH!!!!
He saved us too many times to count. If we got in the car and Benny was crying all we had to do was pop this in and he'd calm right down. My nephew said it was like crack for little kids.
#nickcracksusup
Absolutely love Michael Buble.
Feeling happy? Feeling sad? Feeling romatic?
He's got you covered.
I'm not sure who loves Maroon 5 more. Me or Katie. Let's face it, their music is great and Adam Levine is so pretty…yes, pretty.
This week you'll find me listening to Thomas Rhett. Not only do I like his music, but he holds a special place in my heart because he graduated from my college and now the same one my kids are choosing to attend.
If you haven't given him a shot yet, do it! You won't be sorry! #unlessyoudontlikecountry #wecantbefriends #kidding
What songs hold special memories for you? Do we share any of the same ones?
Let me know in the comments section below. I love hearing from you!!
Happy Tuesday! Time to get bundled up and head into the city for our bike tour.
#wishmeluck
Lisa
XOXOXO