Bananas…
These do absolutely nothing for me (other make me want to gag)
BUT THESE…
Are one of my all time favorites!!!!
It's so strange for me to think how much an actual banana is so gross to me, but banana muffins, banana bread or even pancakes with banana in them are delicious.
#gofigure
Growing up one of my favorite things my mom would make is these banana muffins.  They are so yummy and really pretty easy.  The most difficult part is the recipe is more of a guide than an actual recipe.  WHAT? Yes, you have to just kind of figure it out as you go.  This actually applies to a lot of my moms cooking which makes it hard for me to duplicate. Maybe this was her plan all along to make sure we always came around.
#dumplings
Here's what you need
See? Minimal ingredients.  I know some people will be totally disgusted with the "squirt margarine" as I call it, but it sure does the trick.  You can use melted butter if it's too offensive for you.
On a side note, I typically buy Heart Healthy Bisquick, but I was at Costco and this was a deal so it jumped in my cart.
#icantresistabargain
We usually use frozen bananas in these muffins as well as breads or pancakes. I think once they've been frozen they add even more moisture to the end product.
I use 3 frozen bananas (thawed, usually in the microwave), and mash them with a fork. Add enough Bisquick (start with 2ish cups but you probably need more) to make a dough. I used to do this by hand because my mom does, but recently I threw it in the mixer and it was AWESOME…so much easier
#tryitmom
You want the dough to get just past the sticky point but not really firm or they'll be tough. After mixing in the mixer you'll turn it out of a floured surface and work (roll it together) to form a ball/lump. This is going to add a little more flour so keep that in mind when adding it to the mixer. It's really easy to add more this way if needed.
Here's before rolling it around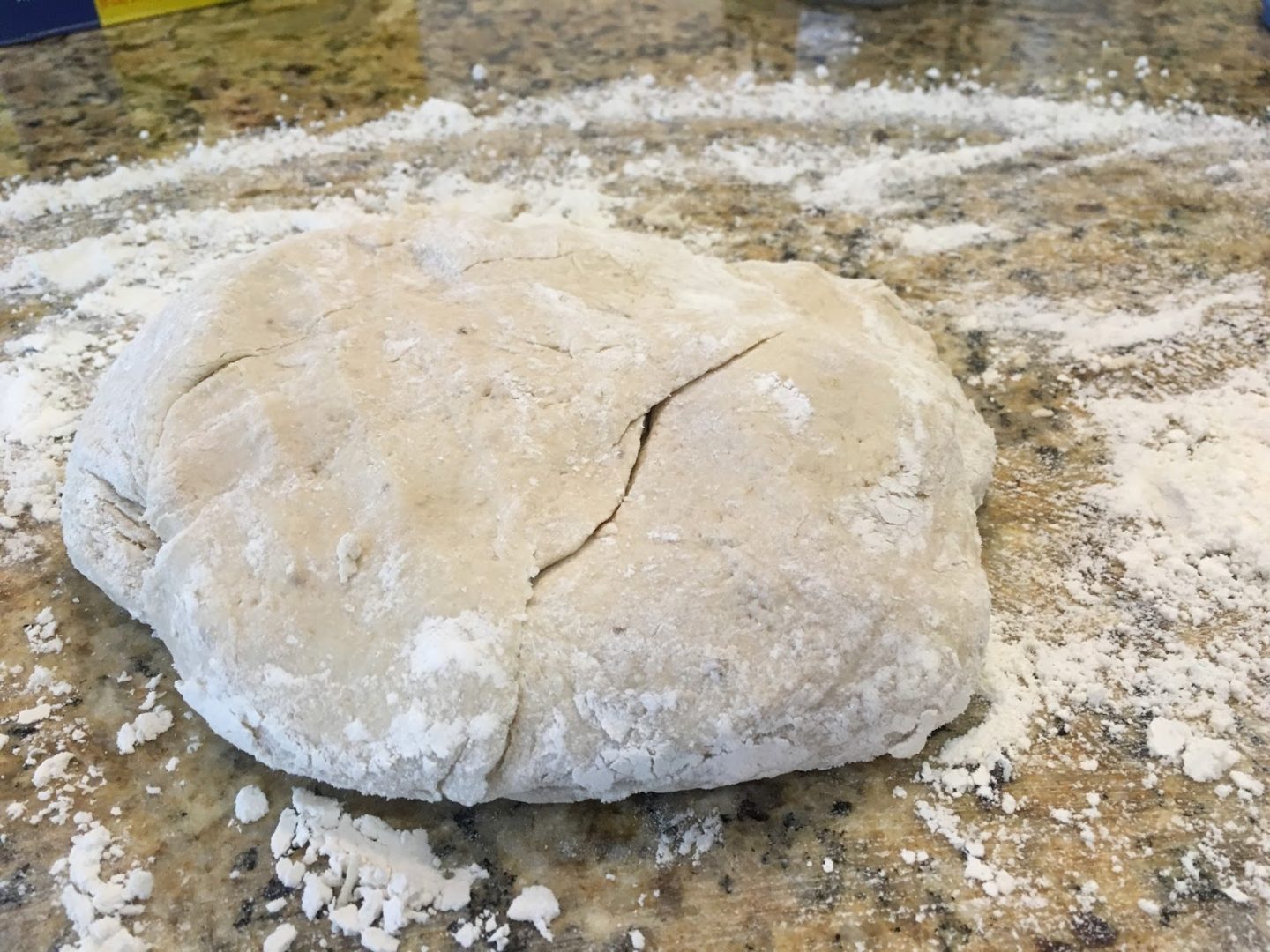 And after
Flatten it out to about a half inch thick rectangle with the palm of your hand. Make sure there's Bisquick under the entire surface or IT. WILL. STICK
Now comes the "squirt margarine"
And then a layer of brown sugar
Next roll them up jelly roll style
Once it's all rolled up I use my hands along the top and sides to make it uniform and long enough to cut into 12 (fairly equal) slices. Start in the middle and make a cut, then cut those 2 in half and then make 3 cuts on each of those sections.
#mathskills
Now comes the best part…the gooey caramelish concoction that goes in the bottom of the muffin tin. Melt 1 stick of butter and add 1/2 cup of brown sugar. Let boil for a few minutes while stirring constantly to bring together.
Kent cracks me up. If he's stirring he says, "look, I'm cooking"
#crazy #butthatsokay
YUMMMMM…here's what you're looking for
Spray the muffin tin (you probably call it a pan, we call it a tin…whatever floats your boat) with cooking spray to help the muffins release.
Add one tablespoon to each muffin compartment (is that what you'd call…idk)
Now add pecans, whole or chopped to each "compartment" (unless Benny's home, leave 3 without nuts. He doesn't like the nuts) I like to toast my pecans first no matter what I'm making.
#hesanut
You're in the homestretch now. Add one slice to each muffin spot. It's best to put the whole muffin tin on a cookies sheet to save the bottom of your oven in case of boiling over.
#learnedthatthehardway
Bake at 350 degrees for approximately 20 minutes, until golden and don't look doughy in the centers.
Let them sit in the pan for a couple of minutes so when you turn them over the caramel doesn't just run out.
Easiest way to flip them.
If you think they look good…you've GOT TO TASTE THEM!!!!
There's just one on this plate, but don't be fooled. I ate more than 2 and less than 4.
#moremathskills #breakfast/lunch
Now for something funny I saw on Facebook yesterday
This made me chuckle out loud!
Happy Wednesday friends!!
Lisa
XOXOXO
Liking up with