For as long as I can remember I've been making Oreo Truffles for my kiddos and husband for Valentine's Day.  To say they LOVE them would be an understatement.  I usually pack them in cute little Chinese "to go" boxes and they each get there own. (This keeps things fair. Wink, wink)
I just returned to CA from a wonderful week in Nashville.  We took our daughter for a Presidential Weekend at the university she will attend in the fall.  We are so excited for her.  Our son is attending the same school and they will overlap for a year so we are very blessed that we will have them in the same place.  I think we all know what this means…lots of trips for MOM!!! We are also lucky to have so many good friends to see when we are there so it's a winner, winner.
Before I left last week I made a big batch of these treats to take to Benny and the friends we were staying with.  I think they were all excited when they got them.  It's so fun to have traditions that carry on from year to year and that people look forward to. I can't just keep these a secret so I'm going to share with you just how easy it is to start your own tradition of Oreo Truffles for Valentine's Day, or any day for that matter.  They are surprisingly easy and yet impressive at the same time.
OREO TRUFFLES

1 Package Oreos   (Mix it up and use Mint or another variety if you like)
1 8oz block of Cream Cheese
1 Block Chocolate Almond Bark
NonPareils (fancy name for sprinkles)
*Note: I use Reduced Fat everything whenever possible.  Oreos and Neufchatel Cream Cheese. Because come on, doesn't that mean I can have another one?  🙂
Place the Oreos in a food processor and crush to a fine crumb texture like breadcrumbs.  If you don't have a food processor just place in a Ziploc and beat them with a rolling pin. (this just might be your method of choice if you're having a stressful day 😉
Once you've got the crumbs made, place them in your mixer and add the cream cheese.  For years I did this part by hand and then one day I threw them in the mixer and never looked back.  At this point you can go ahead and scoop them with a small ice cream scoop or stick the mix in the fridge until you're ready to move on.
Once you have all the balls scooped, roll them in your hands to smooth the surface.  They dip better if they are cold.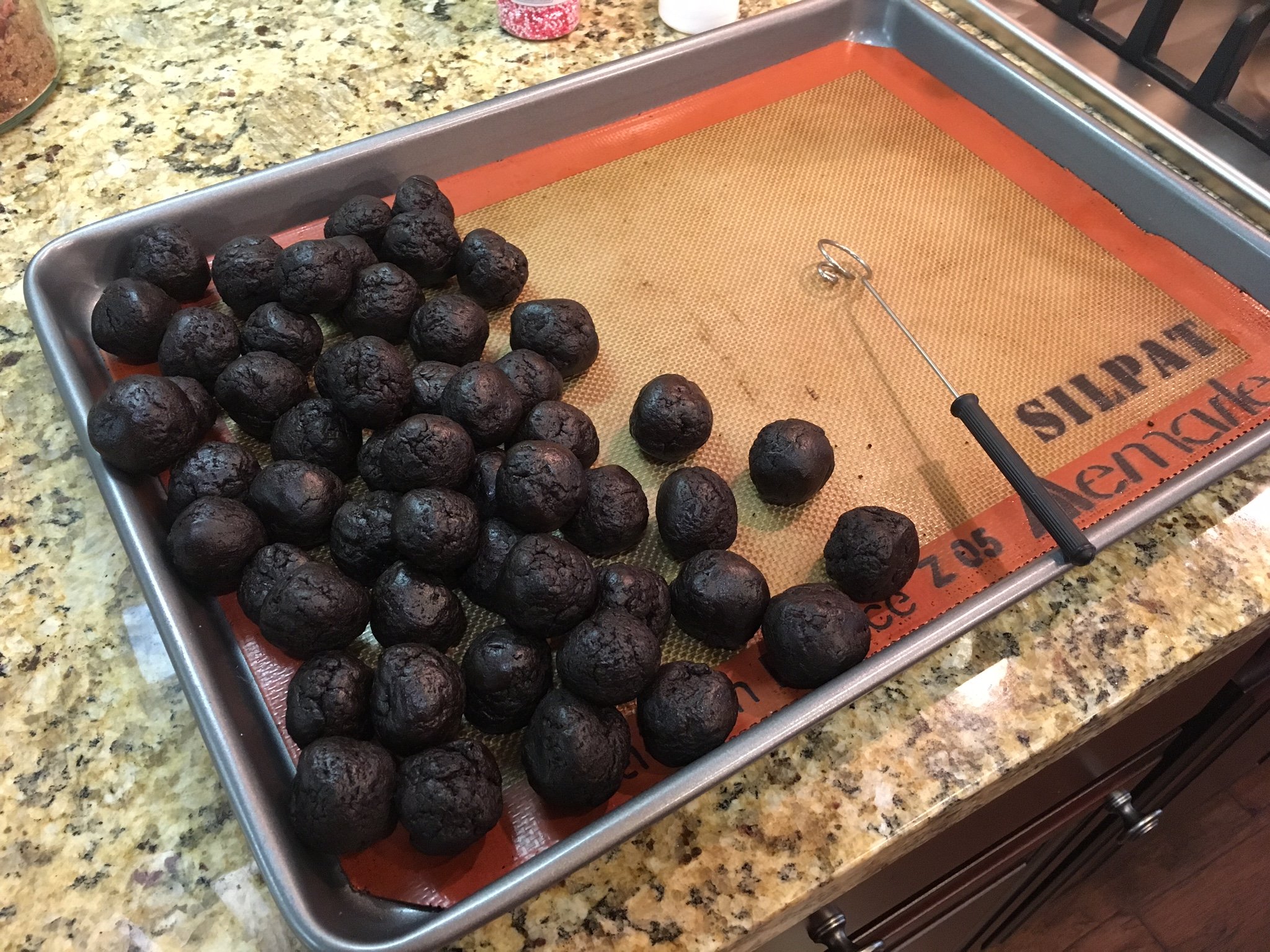 I made a "double boiler" out of a Pyrex bowl and a small saucepan. Melt the bark over simmering water (don't let it touch the bottom of the chocolate). If you prefer you can melt the chocolate in the microwave.  I've done it both ways, but I think it's stays easier to work with in the stove top method.The little tool pictured above makes dipping them really easy.  If you don't have one, just use a fork.  Drop a truffle in the chocolate, roll it around and pick it up letting the excess drip back in the pot.  Place on a Silpat  or wax paper lined baking sheet. You can dip a few then go back and add the NonPareils (sprinkles) before the chocolate cools so they will stick. Once they are all dipped, place in the refrigerator to cool.  These need to be stored in the fridge as well.
I had a couple of extra Oreos so I just dipped those for Benny too.
Oreo + Chocolate = L♥VE